The Basics
Japan has 4 distinct seasons that each give a special beauty to Hokkaido, the northernmost island of Japan's 4 main islands. In the spring, the flowers bloom and animals wake from their hibernation. In the summer, Hokkaido is dry and sunny. In the autumn, the people of Hokkaido enjoy many delicious seasonal foods in addition to the breathtaking autumn colors of Hokkaido's mountains. In the winter, white snow covers much of the island.
Hokkaido is famous for its pristine nature, its great food, an the beauty of its 4 distinct seasons. As it is such a large island, accounting for over 1/5th of Japan's land area, there are many cities and country regions in Hokkaido. In Sapporo, which serves as Hokkaido's political and economic center, you will find shopping malls and all that big city life has to offer. To the north of Sapporo, Hakodate and Otaru provide an inviting, nostalgic atmosphere due to the influx of Western culture there over a century ago.
Hokkaido also boasts the Seikan Tunnel, the longest undersea tunnel in the world, which connects Hokkaido to Honshu, the main island of Japan. You can also access Hokkaido by airplane, through both domestic and international flights, as well as ferry or car.
Summer & Winter Activities
Although all of Hokkaido's seasons are beautiful, the summer and winter are the most popular seasons for visitors. In the summer, you can enjoy driving along flora-filled foothills or going on a mountain trek, or you can even find rare alpine plants seen only in Hokkaido. For the more adventurous, you can try river rafting or paragliding. In the winter, skiing and snowboarding are popular. You can also book a ride on a sightseeing ice-breaker ship. Another popular winter activity is enjoying outdoor hot-springs.
Visit here to learn more about Hokkaido:
http://en.visit-hokkaido.jp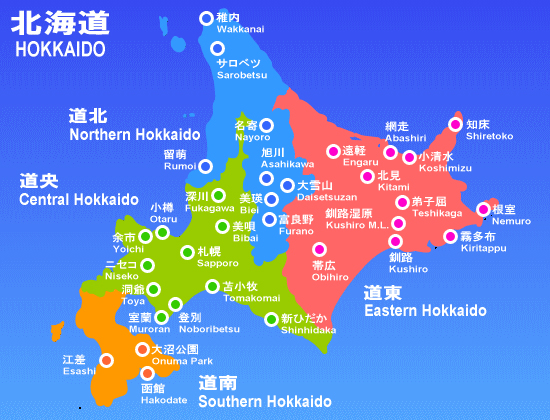 Hokkaido Cuisine
Surrounded by ocean, Hokkaido's robust fishing industry accounts for 1/4th of Japan's total annual catch.
Offshore in the Pacific, the nutrient-rich Oyashio Current carries an abundance of plankton, creating ideal environment for cold ocean current fish such as salmon, trout, saury, and cod. In the winter months, nutrient-rich drift ice from Russia floats into the Sea of Okhotsk, providing Hokkaido's fish with food high in nutrition. And because the cold water there makes their bodies firm while at the same time they have plenty of stored fat for the winter and egg-laying, Hokkaido's fish are known for their being extremely delicious.
But Hokkaido is not just famous for its marine products.
The land of Hokkaido is endowed with an abundance of nature's beauty, through which extremely clean waters flow. The many clean rivers and nutrient-rich fertile green land help create agricultural produce with unexcelled taste.